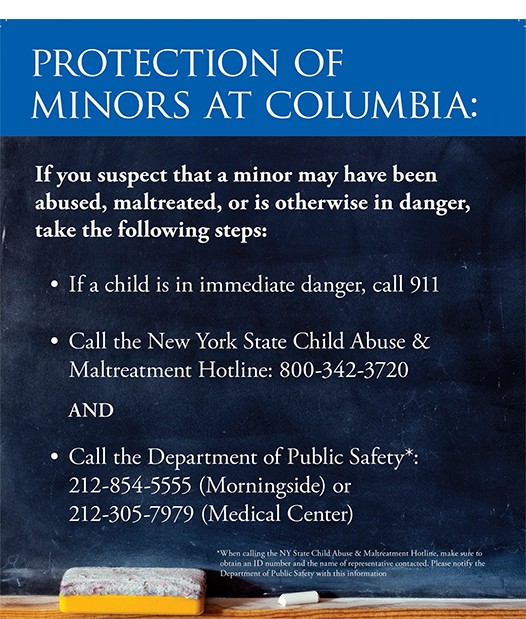 Protection of Minors
Columbia welcomes minors to our campus every day. They are part of our academic programs and activities, athletic programs, summer camps, the (K-8) School at Columbia University, medical clinics and practices, and affiliated childcare centers. We all bear a special responsibility for their care and protection, and we all need to act immediately when we reasonably suspect they may be at risk.
Register your program or activity involving minors here!
We encourage you to download, print, and post this flyer in areas that have programs or activities involving minors. This flyer highlights the duty of members of the Columbia University community who interact with, supervise, chaperone, or otherwise oversee minors in programs or activities at the University or sponsored by the University to report immediately if they have reasonable cause to suspect abuse or maltreatment of individuals under the age of 18.

Any members of the Columbia University community may report abuse if they suspect that a child has been abused or maltreated.
Download and/or print a copy of the flyer.
Hard copies and/or larger posters are available upon request at [email protected].
Recognizing & Reporting Child Abuse & Neglect 
This brochure from the NYC Administration for Children's Services addresses questions often asked by friends, neighbors, and relatives about recognizing and reporting child abuse and neglect.

Parent's Guide to New York State Child Neglect and Abuse Laws (Fourth Edition)
As part of its ongoing effort to ensure the safety and well being of New York City's children, Children's Services has produced this Fourth edition of the Parent's Guide to the New York State Child Neglect and Abuse Laws. Children's Services acknowledges the many challenges that families and children encounter. This publication provides useful information about the New York State laws that protect children.
Child Abuse and Neglect Prevention 
This 48-page guide from the Centers for Disease Control and Prevention, U.S. Department of Health and Human Services includes chapters on prevention, overcoming challenges, developing processes, and implementing training.
Primary Guidance to Which This Policy Responds
Cross References to Related Policies
Columbia University is committed to promoting a safe environment for minors who participate in our programs and activities. We have taken a number of important steps to establish safeguards for your child:
We have revised our policy on Reporting Suspected Abuse and Maltreatment of Minors.
We have established clear requirements for reporting abuse and maltreatment.
We have widely disseminated a flyer reminding employees and volunteers how to make a report.
We have developed a website that contains valuable information on the protection of minors at Columbia.
We are educating members of the University community about the signs of abuse and maltreatment and how to make a report.
We are requiring certain categories of adults who participate in programs or activities involving minors to clear criminal background checks and other screening requirements.